Hi and Welcome to my Barry Manilow page: THE MAGIC OF MANILOW I have been a fan for over 20 years now, but I still can remember the first time I heard that voice that stopped me in my tracks as if it were yesterday.
THE MAGIC OF MANILOW was something that I started to write several years ago, and came across again recently. I have updated it to include more of Mr. M's music, but there is no way to include all, as he has done so much over the years. Hopefully I have included some of your favorites as well as my own. My all-time personal favorite is "Weekend In New England", but the song you are listening to now, "MANDY" will always hold a very special place in my heart, because that was the song that got me hooked in the first place.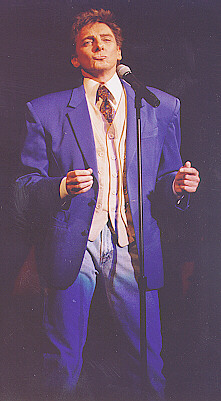 The Magic of Manilow
A Very Strange Medley haunts my Memory and sends me Reminiscin'.
Is it a New York City Rhythm? Some Brooklyn Blues? A Moonlight Serenade? Or maybe it's just some old American Bandstand tune? I'm not sure, but whatever it is, it's definitely Beautiful Music.
It awakens The Kid Inside and together we wander Somewhere Down The Road, recalling The Summer of '78 and a Weekend in New England.Cloudbursts and Stardust. Dancing in the Dark at the Copa and Stompin' at the Savoy. And all the Big Fun we had on Swing Street and Avenue C and other Wild Places. The faces of old Friends and lovers pass through my mind like Ships in the night. People like Mandy and Jenny and Bobbie Lee and Joey to name just a few.
Soon the music begins to fade away, taking with it all the bits and pieces of what now seems like Another Life. Until the next time....
I never know Where Or When or even why the music will return, I just know that it will, As Sure As I'm Standing Here. Perhaps while watching the Sunrise, or when I Look To the Rainbow. Maybe when I stumble across some old letters that I just had to Read 'Em and Weep. Or maybe it will be Somewhere in the Night when I'm feeling Bluer Than Blue and wondering why I Can't Teach My Old Heart New Tricks until Daybreak.
As for the why, perhaps the music is meant to comfort me, to make me realize that Life Will Go On, and that even Fools Get Lucky sometimes. Just so that, like a Studio Musician, who's ready to Break Down the Door to his future and take his place Up Front, I'll be Ready To Take a Chance Again when the time is right to Begin Again.
And begin again I shall, knowing All The Time that EvenNow, Somewhere out there waits the Sweet Life we all dream about. A life where One Voice sings The Old Songs of Summertime When October Goes and whispers Please Don't Be Scared -- We'll Keep Each Other Warm when the storms rage outside. A life where The Air That I Breathe is filled with promises of tomorrow instead of fears of what If Tomorrow Never Comes
But wait, that life is already here and now -- isn't it? And that voice has been here all along -- hasn't it ? Maybe that's the real reason behind the music. Maybe It's A Miracle? Or Could It Be Magic? Yes, of course it's magic -- the Magic of Manilow
MANILOW FOREVER
WHO NEEDS TO DREAM WHEN THERE IS YOU?



Well, I hope you enjoyed visiting my page.
Please come back again soon.
And don't forget to sign my guestbook.

For more about me, please visit my homepage at:


Jody's Homepage
IDIM will show you the way
(You'll find lots of great music over there too.)
For those of you who haven't met Idim yet, she's my little cyberspace pal. You can learn more about her on my homepage too.

And don't forget about my MIDI Page.


Jody's Midi Place
(You'll find tons of great music over there, and the coolest band in cyberspace! Not to mention the cutest !!)


Also visit some of my friends and fellow Barry fans at:


Sarah's World


Manilow Magic in My Attic


Barry World


ManiNut Music Mania


Judy's Place


Susanne's Barry Manilow Page


The Barry Manilow SuperHighway


Welcome To Angie's Street


You can also find more info on Barry at:


Manilow, Barry (message board)


The Barry Manilow Site - ManiWeb


Barry Manilow - The BarryNet


ARISTA RECORDS: Barry Manilow


Somewhere In The South (fan club)


The Alamo Manilows (fan club)

Please let me know what you think about my page.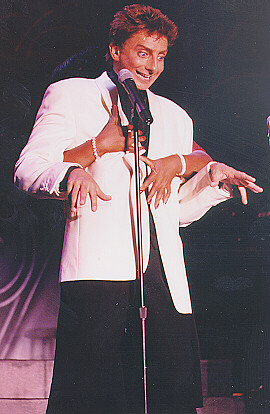 Sign My Guestbook



View My Guestbook


Please Vote For My Site As A STARTING POING Hot Site
(Just click on the graphic below) STARTING POINT

WOW !!!!
My very first award !! THANK YOU to the BMSH !!!!


WOW !!!!
Another award !! THANK YOU to ManiNUT (Pat D.)!!!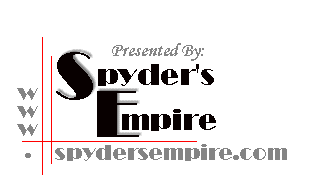 WOW !!!!
Another award!! THANK YOU to Spyder's Empire for this award !!!!